copyright - jürgen müller-popken - 49767 twist - northern-germany
Reiki Classes I, II, III.
- By request
Alexander Lessons:

$90-$120/ lesson
Lesson Package:
$400 for 5 lessons
Reiki: private sessions
(incl. long distance healing)
$
110.00
Voice Toning: private sessions
45 min:
$60.00
Resting in the Heart-Space:
April 2019 - More info coming soon!
Location:
Creshein Healing Arts, Mt. Airy, Philadelphia
Cost $25.00
RSVP plus info:
215 264 0071
It is not the world
that needs peace;
it is people.
When people
in the world
are at peace
within
the world will be
at peace."
Prem Rawat:




PRIVATE SESSIONS
by appt.
●
Visioning Group
Thursdays:
7:30 to 9 pm
RSVP: 215 264 0071
●
"
Sound Bath" Meditation with
Crystal Bowls & Gong
On each New Moon at
7:30 pm
RSVP: 215 264 0071 / Donation $15
ONGOING - in Philadelphia: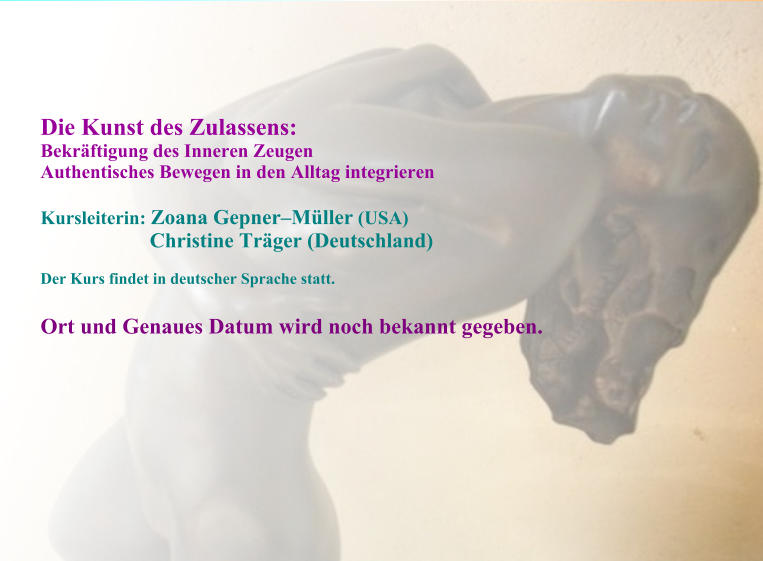 Intuitive Healing Session
(incl. long distance healing)
90 min:
$111.00

Können wir lernen, unserem Selbst freien Lauf zu lassen? Auf der Basis der Techniken
von "Authentischer Bewegung" (Authentic Movement)", der Alexandertechnik und
Gestalt-Prozessen wollen wir üben, wie wir unserem Leben in jedem Augenblick mit
mehr Souveränität und Eigenverantwortung begegnen können. Was geschieht, wenn wir
unsere Aufmerksamkeit auf unsere inneren Bewegungs-Impulse lenken und ihnen mit
Vertrauen begegnen? Die Disharmonien unseres Lebens beginnen sich wie von alleine zu
regulieren.
Leicht führen Zoana Gepner-Müller und Christine Träger Menschen über deren
vermeintliche Grenzen hinaus.
Zoana Gepner-Müller, Intentional Movement Facilitator, Ausbilderin an der Alexander
Schule, Philadelphia, USA. Reiki Meisterin. Lebt in Philadelphia, USA, Leitet Workshops,
und gibt Einzelstunden seit über 30 Jahren in den Staaten und Europa.
Christine Träger, Lehrerin für Alexandertechnik, Mitglied im ATD Berufsverband der
Lehrer und Lehrerinnen für Alexander-Technik, Deutschland. Sie gibt Gruppen- und
Einzelstunden.
Zum Kurs bitte mitbringen: Decke, lockere Kleidung, "Mal-Material", womit ihr am
liebsten malt: (Kreiden, Stifte, oder Wasserfarben,) etwas zu Essen für Mittags, und die
Offenheit, überrascht zu werden.
Der Kurs wird jeweils 90,00 Euro pro Person kosten, Frühanmeldung 75,00 Euro.
Begrenzte Teilnehmerzahl
Information
und Anmeldung bei Zoana Gepner-Müller über
:
zoanagm@gmail.com
In Planung: WORKSHOP IN DEUTSCHLAND - JUNI 2019



A Center for Remembering our Wholeness
Authentic Movement Playshop
Sat., 6/22/19 2-5PM.

$55
Location:
359 W Johnson St, Philadelphia
Call: 215 264 0071
Ananda Healing Sounds
Crystal singing bowls, violin, guitar,
& tabla.
Click here to listen!
with Zoana, Joseph, Raji, & Radha
Available upon request
Create your own Crystal-Singing-
Bowl-Event
For info call Zoana: 215 264 0071
For Alexander Techique Intros
in your home, workplace, or at
Zoana's Place
call 215 264 0071

(Sliding scale available)
Experience The "Light Body"
Crystal Bowls, Light Language Songs,
Body Psychotherapy Previous Info Here
Coming soon!
$75-$150
Location:
New Hope Area
Call for more info: 215 264 0071
2019 Eight-Month Self-Healing
Journey
Join us for 8 weekend retreats i

n

beautiful
Bucks County from March-October 2019.
Connect deep into your authentic self and
touch into the heart and voices of your body,
mind, and soul - all in an atmosphere of joyful
creative expression.
For more information and to register,
click here.